January 02, 2022
Interviews
Man's Best Friend: Tik Tok's Own Matt Newman & His Handsome Hounds
MAN'S BEST FRIEND
Matt Newman
The Pagerie Pet is not only your son or daughter, but closest confidant. Introducing Wo(man) 's Best Friend, a series that reveals our favourite Pagerie companions and the personality traits that make them one of a kind.
Matt Newman is a New York City-based hairstylist, content creator, and Tik Tok savant. The latter two only became part of his vocation in the last year and a half. His bubbly personality has made him not only the ultimate hair educator, but a joy to watch. Need to smile? Just tune into @mattloveshair. "I approach content creation and my videos from the point of view of a friend with advice for doing it yourself," says Matt. "That's my sweet spot."
We can attest that it absolutely is. For example, Matt's highest viewed video shows him using dental floss to lay down flyaways for sleek hair. But we can't discount the fact that Matt's sons, in other words, his pomeranian Keewee and toy poodle Mojo, sneak into his content every now and then.
"
My love for Keewee and Mojo is unending, eternal, beyond the bounds of earthly being,
"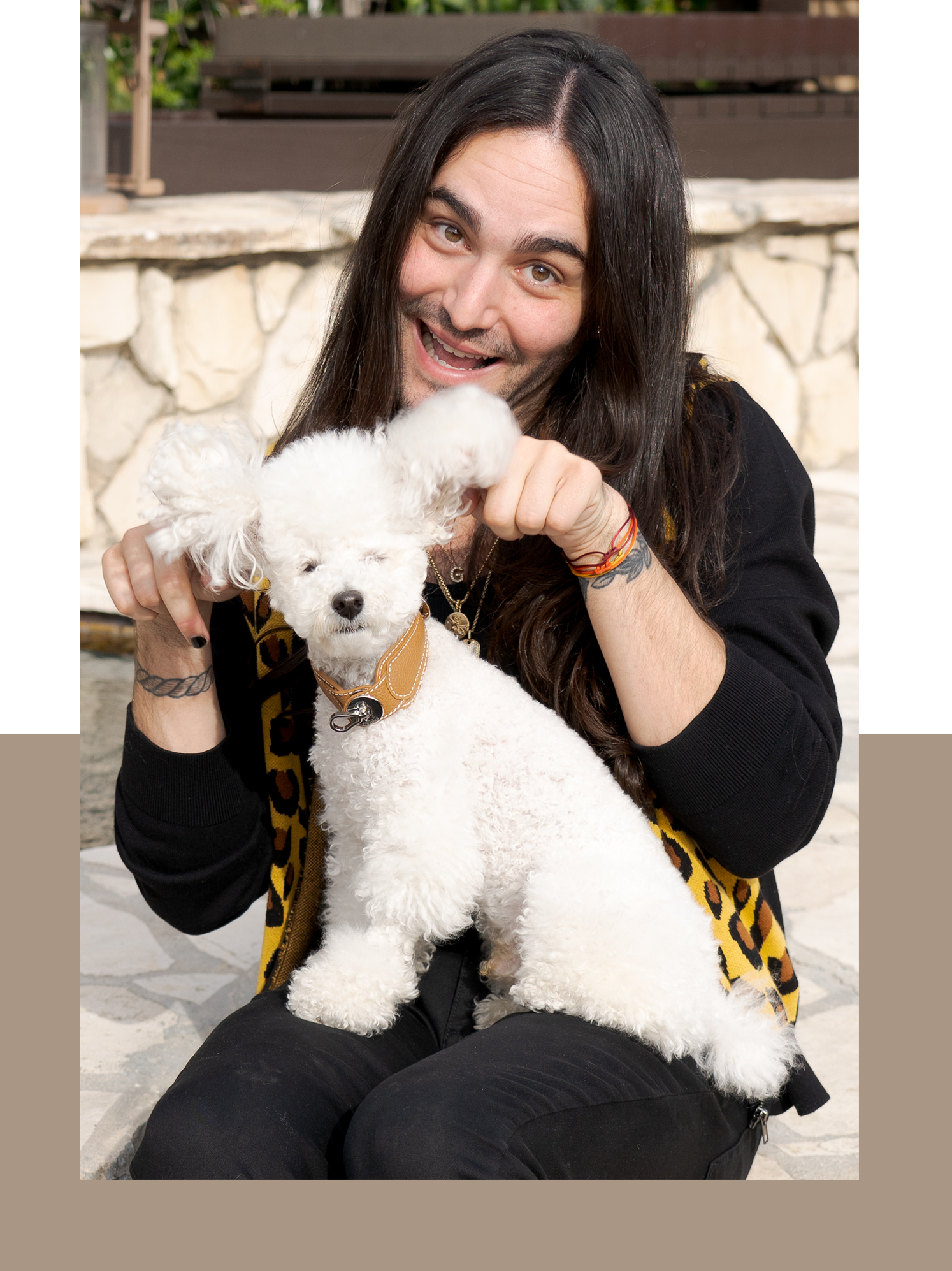 says Matt. "We are soul connections that will last for eternity. I feel that my dogs are literally an extension of my being."
Keewee came into his life first, and according to Matt, he immediately started licking his to-be owner's lips and has not stopped three years later. "He's a total love bug with unlimited energy and he's still like that," says Matt. "He is a kissy kissy energy baby boy and I'm obsessed with him. Our first meeting with Mojo was a little different because Mojo was six months old already. We picked him up at the airport and he was freaked out. He seemed sort of fragile, but he's actually really sassy. So my first impression of Mojo was wrong. I thought he was fragile and passive, but he is the opposite."
Meanwhile, Matt describes his boys as the two old Muppets in the top corner of the theatre x Bert and Ernie. "They are obsessed with each other," he adds. "They are in their own world together. They're not exactly competitive, but there's definitely a love and a bickering".
And although Keewee and Mojo's love is apparent for each other, the boys truly adore their father. Having been a dog parent prior to his two little loves, Matt has learned a thing or two. "I don't know the science behind this, but it's something I learned with my other dog Deewee," says Matt. "If you let your dogs kiss you on the lips, they're more in love with you than anything/anyone else!"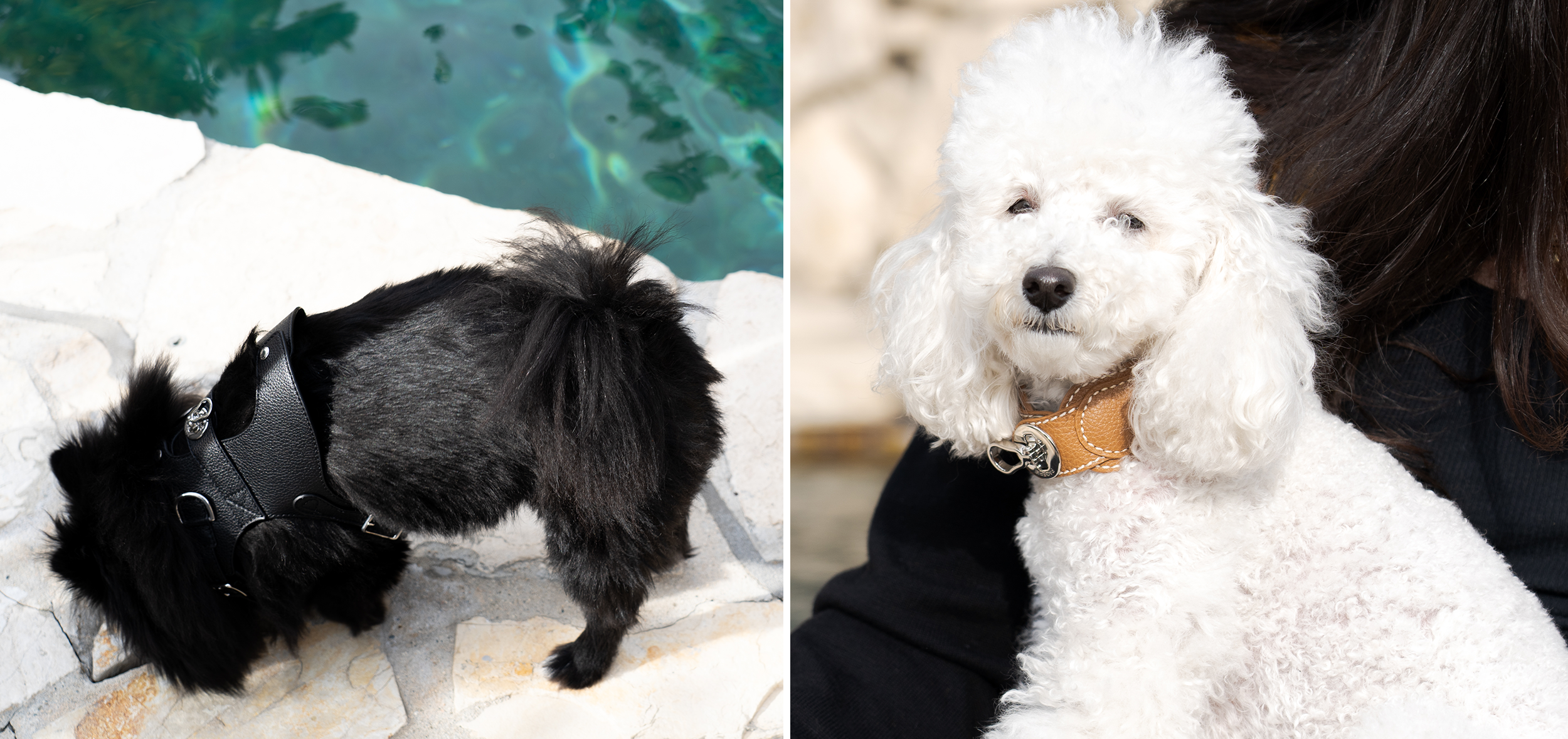 MEET MATT'S CANINE COMPANIONS
Mojo & Keewee
Dog son's name: Mojo and Keewee. Mojo came from Joplin, Missouri, which is JO, MO, so we flipped it and made it Mojo. Keewee is technically short for Kereon. He was named after my other dog Dereon. We thought Keewee was going to be four or five pounds, but then he grew to be 13.
Breed: Pomeranian and toy poodle.
Cutest quirk: Mojo's cutest quirk is jumping into my partner's arms. And Keewee's cutest quirk is the pomeranian head tilt.
Favourite human food: Chicken or steak. They also love Bold Flavoured Chex Mix. When I bring out the Chex Mix, they know that we're going to share it with them.
Daily uniform: I'm going to be real here. They both wear diapers. It's not about having an accident in the house. They're just active markers. They will have just walked and you would think they got every single last drop out. But then they come in the house and manage to find another drop to squirt on the foot of the table.
Go-to outdoor activity: Going for a walk is their go-to outdoor activity. We let them do what we call an intuitive walk where we let them sniff a lot.
Preferred luxury item: They like to sleep on our down pillows. I wake up with Keewee on the actual pillow and Mojo does the same thing.