The Dórro Dog Collar - Up and Out in Seconds
Pagerie is a solution to what was missing on the market for our canines and owners globally. In this series, All in the Details, we breakdown the distinct aspects of what makes Pagerie a house rooted in ultra-luxury and historical craftsmanship for the companions that bring us joy.
The traditional dog collar is usually made with webbing or rope, consists of brass or zinc hardware, and frequently causes skin irritation or rashes. So our founder, Mandy Madden Kelley, made a finite decision to create a new collar iteration.
One that is beautiful, sturdy, and improves both the owner and the canine's day-to-day life.
Otherwise known as the Dórro, our REACH-certified, ultra-luxurious grain leather collar with stainless steel accoutrements allows for ease of use and ensures the perfect fit from the very first wear. Just pull the signature pear-shaped turnlock up, twist to the right, and turn down.
With immense strength, classic construction, and a flattering sand hue, the Dórro Collar stands the test of time. Here, our founder dives deeper into her design process, the array of tests our collar went through to ensure safety, and Mandy's initial inspiration for its timeless aesthetic.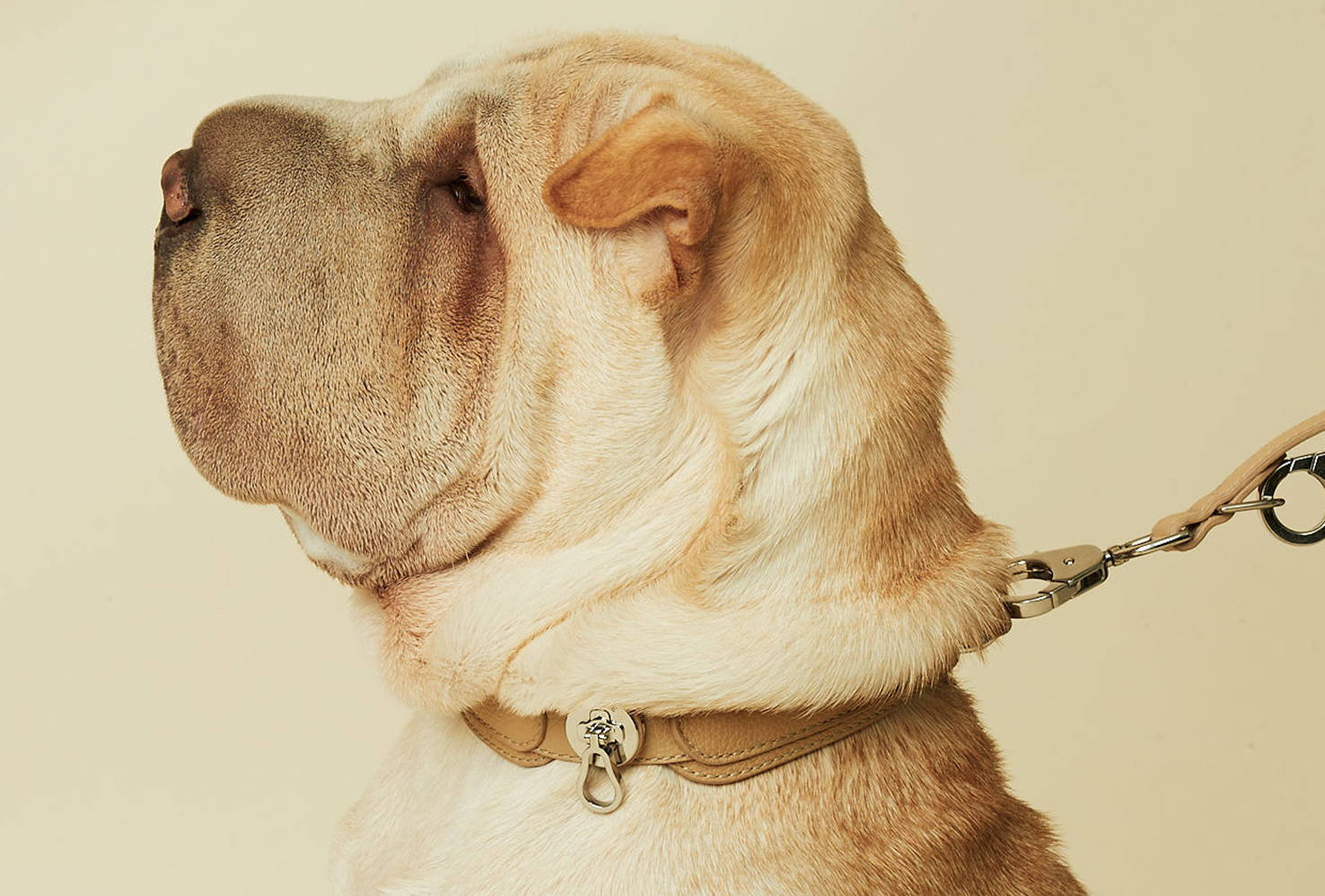 Q: What inspired you to create the Dórro Collar?
A: My Frenchie, Hector, struggles with breathing, so if he has something on his neck and he sleeps with it, he literally can't breathe. I hear him snore every night regardless, but I wanted to make his collar easy to put on and take off.
To secure the collar in place, simply:
Push it through the slot.

Rotate it by 90° until it clicks into place. (Requires a little force!)

Flip it down to lock securely.

Reverse the process to remove.
Q: What makes the Dórro different from other collars on the market?
A: The traditional way of using a collar is to buckle it in and buckle it out. I was surprised that we're now in 2020 and have Apple Watches and iPhones and nothing has changed when it comes to dog accessories. Through my own experience and other people I've spoken to, I know they run into the same issue of removing their pet's collar and putting it back on everyday.  
I wanted to create something secure and not jeopardise the possibility of having your dog escape, which we've done by making the turnlock snap into place twice. But at the same time, I wanted easy access. Once you adjust the buckle to your pet's neck size, you won't ever have to touch it again.
Q: How did you decide on the design and the different elements of the Dórro Collar?
A: This collection is all about the curvatures of the dog's muscles, so I wanted to capture these really beautiful shapes, such as their shoulders and ribcage. The designs are about curves upon curves.
When creating each item, I wanted them to speak to each other, so we used our signature pear shape across everything. Pagerie portrays dogs in the fashion world. Strong and masculine, powerful and fast.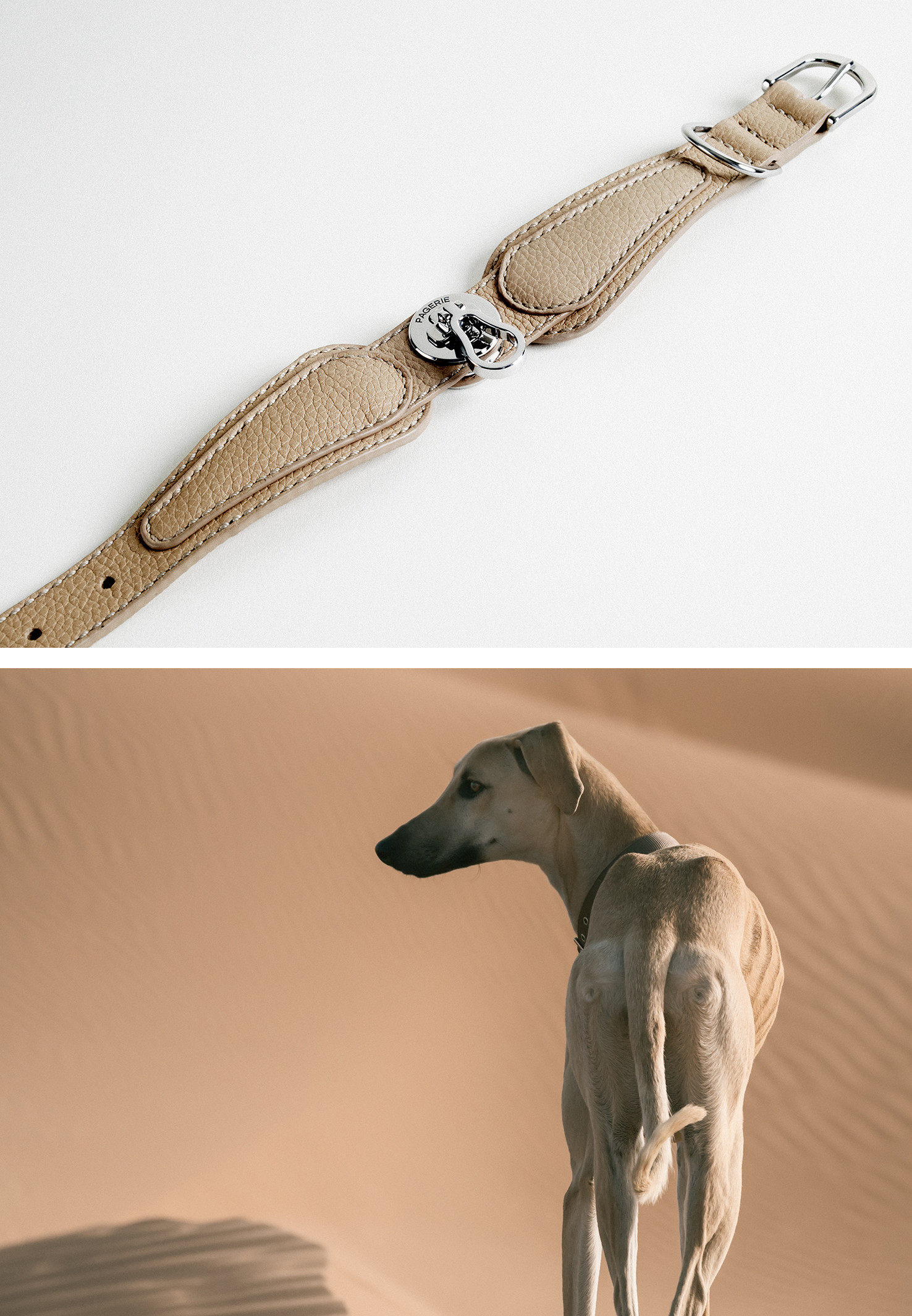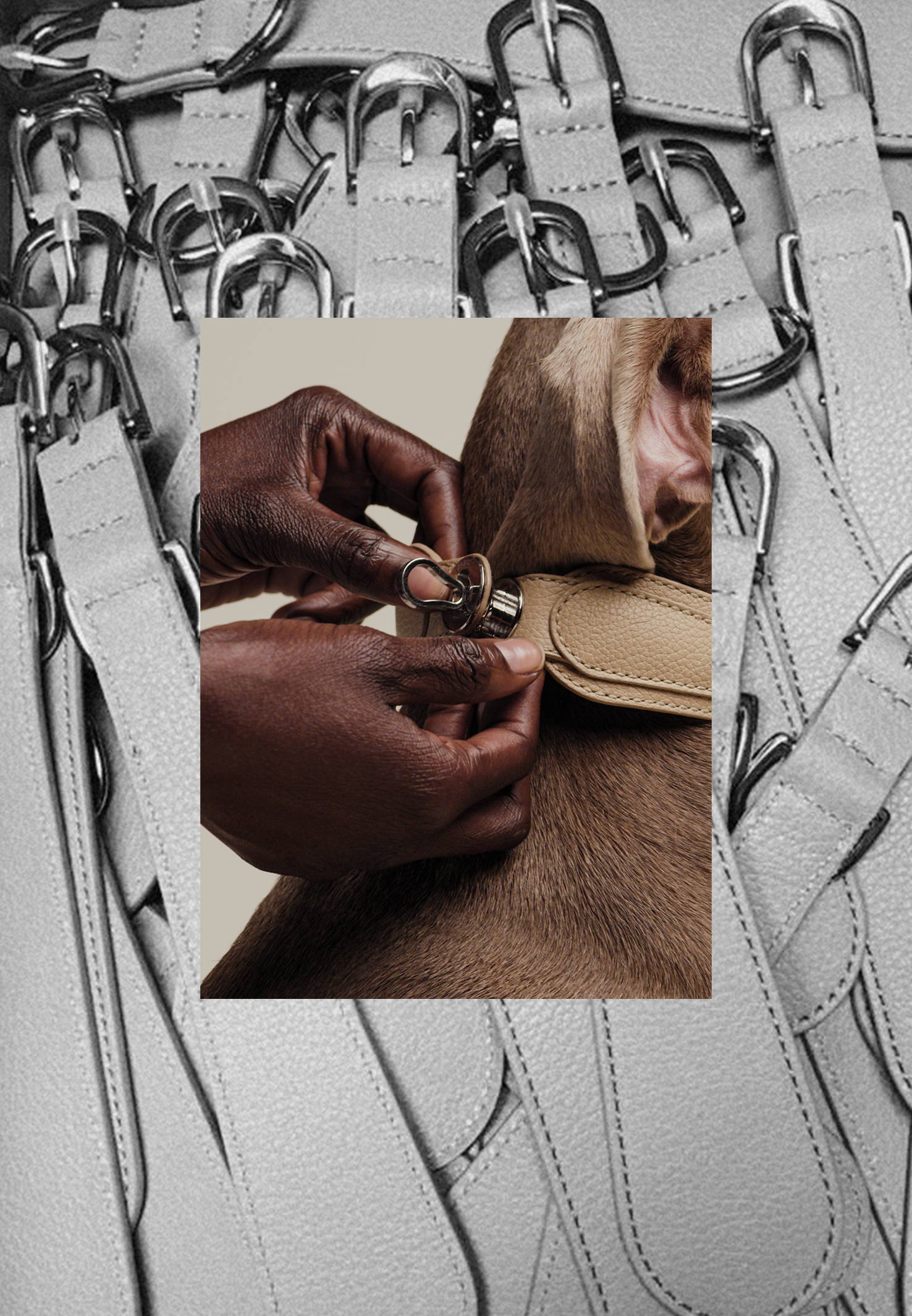 Q: How does the Dórro Collar encompass safety for the owner and canine?
A: Through testing, we discovered stainless steel is one of the only materials that hasn't seen any irritation when in direct contact with the skin. For a dog like mine, who's a Frenchie, he's got so many allergies. For instance, if he were to use zinc, it would really bother his skin. So I went out of my way to find a metal that's friendly for the environment, but also for our pets.
Q: You've done a lot of testing to ensure safety. What does testing look like?
A: We tested the collar on dogs and we had lab tests to see how much strength it could hold. With our signature turnlock, which has gone through an array of tests too, with multiple designers and engineers, we had to find a mechanism that was safe, but still easy to remove.
The turnlock allows you to take the collar off like a handbag. It's so sturdy, yet looks so luxe, so don't be afraid to get a little aggressive with it. It's super solid because it locks twice.
I should add that the purpose of the turnlock is not to be attached to a leash. The leash attaches to the D-ring on the collar.