Luxury Dog Grooming Tools
Can Pet Grooming Tools Be Practical, Yet Aesthetic?
Possibly The Most Luxurious Dog Grooming Tools You've Ever Seen...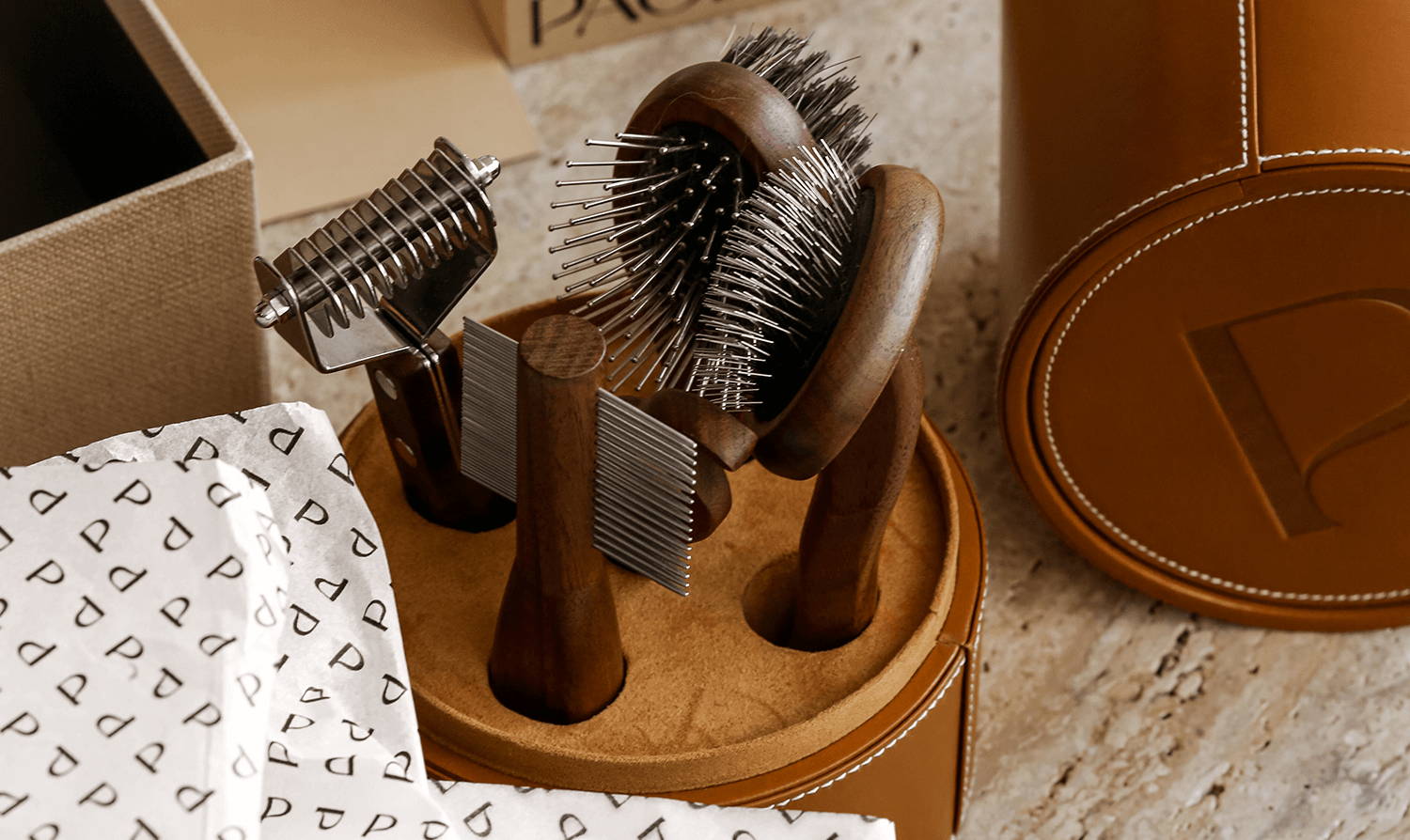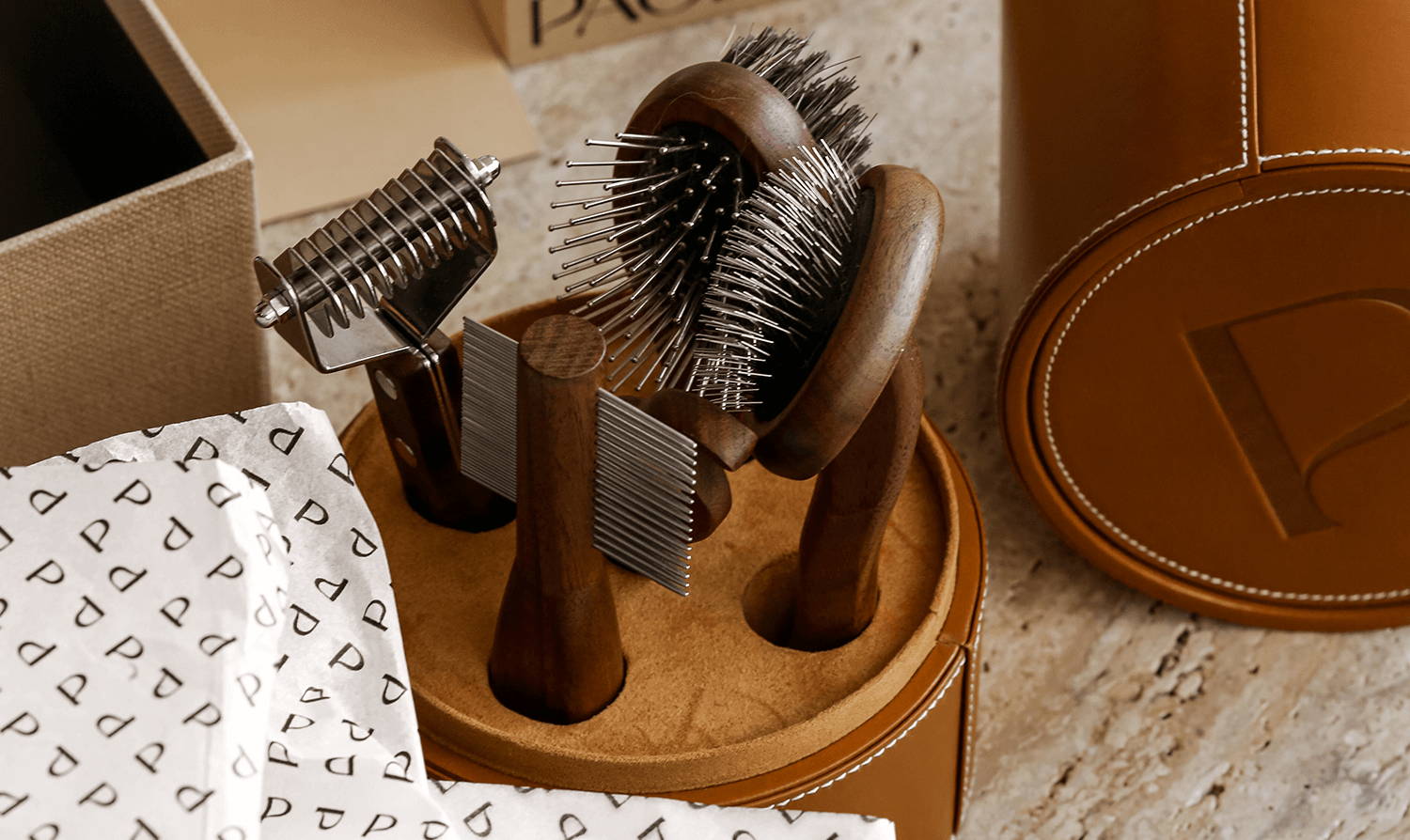 THE MOST LUXURIOUS DOG GROOMING TOOLS DO NOT EXIST... OH WAIT. THEY DO.
Have you seen The House of Pagerie's Pansage Grooming Kit? If ever a grooming kit was created for the most pampered of pups, The Pansage is it.
The Pansage dog grooming kit is made for the sophisticated pet parent who seeks only the most luxurious experiences for their beloved companion. It offers a sense of refinement and ease that elevates grooming to its rightful place: one of utter indulgence. The attractive raw leather and suede case includes ergonomic grooming equipment that are well-designed for use at home or during dog competitions.
It's fair to say, whenever The House of PAGERIE commits to bringing a new object for our beloved pets to the market, they do it with optimal suave and style. The Pansage is one of Pagerie's latest offerings, that will be treasured and well-used, for the most intimate of moments with your pet. After all, pet grooming is the act which leads to the interaction between pet and owner which necessitates an immense amount of trust. Give your dog the ultimate grooming experience with our range of natural, luxury grooming tools.
YES. THEY CAN.
For the sophisticated pet parent who seeks only the most luxurious experiences for their beloved companion, the Pansage Dog Grooming Kit, designed by PAGERIE, provides a sense of refinement and ease that elevates grooming to its rightful place: One of utter indulgence.
The 100% vegetable-tanned leather case, lined with suede, is embossed with PAGERIE's signature P logo, featuring contrasting stitching. The object of design houses five ergonomic tools specifically designed to simplify both daily grooming needs as well as preparing for competitive events.
Crafted from the highest grade of materials, each tool displays meticulous attention to detail and elegance. Boasting surgical-grade stainless steel and a genuine walnut wood handle, it is easy to use yet offers incisive precision and power.
Let's take a look at what's inside this box full of surprises: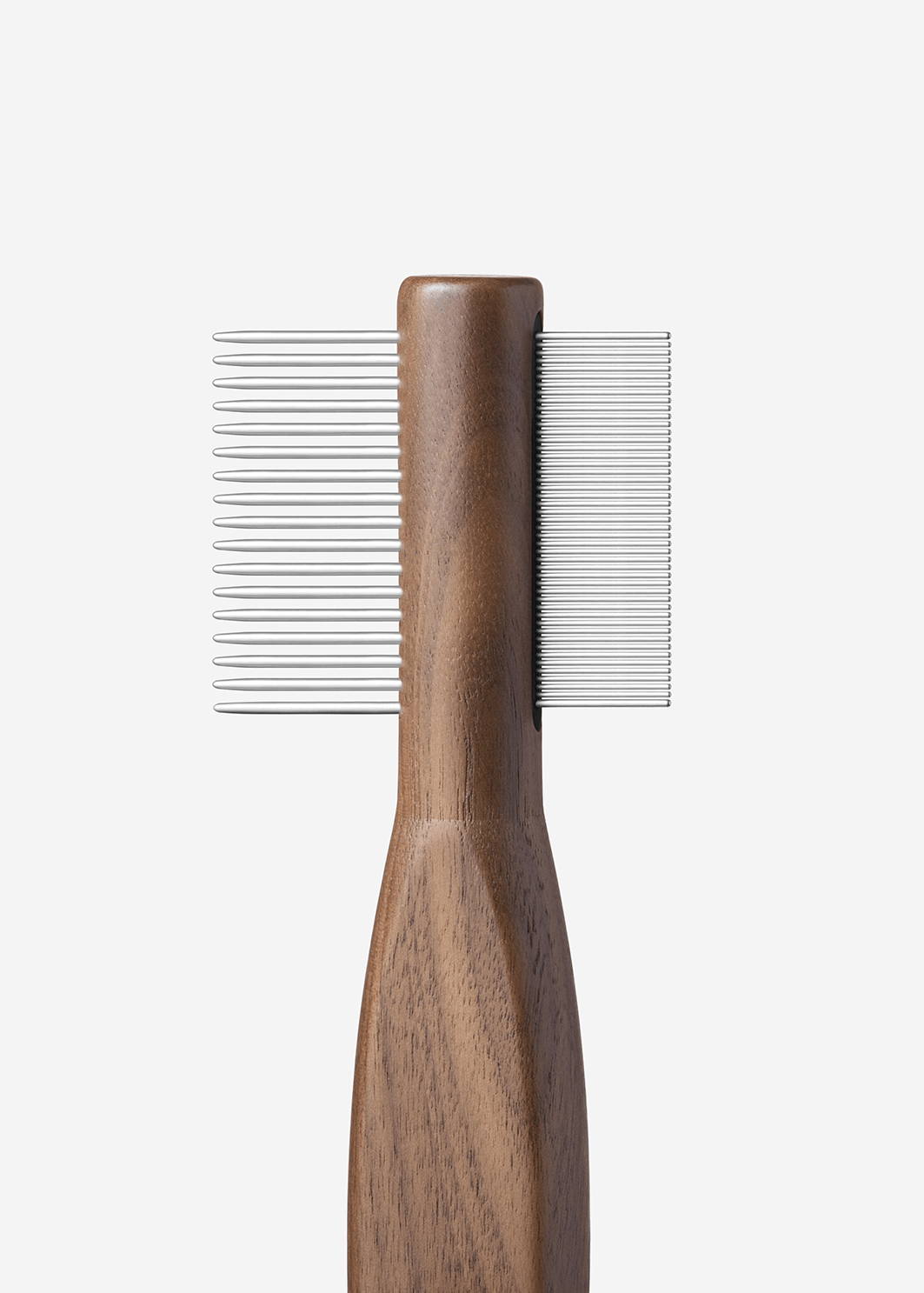 FOR FLEA REMOVAL
The Double-Sided Comb
Designed for gentle grooming, allowing you to glide over your dog's coat with minimal effort and restraint. It may also be used as a finishing comb or for flea eradication. This comb was created to tackle the most difficult knots, with a combination of fine and coarse pins to conveniently target different regions of the dog and finish off your grooming in great style.
The thick sided pins go deep into the coat targeting the hidden knots without damaging your dog's skin. The tighter path side is recommended for flea egg removal as it allows you to safely rake the pet's skin to remove tiny flea eggs that might be hiding and prove a little trickier to reach.
---
FOR UNTANGLING
The Double-Sided Pin & Bristle Brush
Designed specifically to untangle and de-mat longer-haired coat types with maximum convenience and comfort.
Soft but robust angled teeth with a rubber end to stimulate the skin for thorough coat penetration. Ideal for long-haired dogs with thicker coats.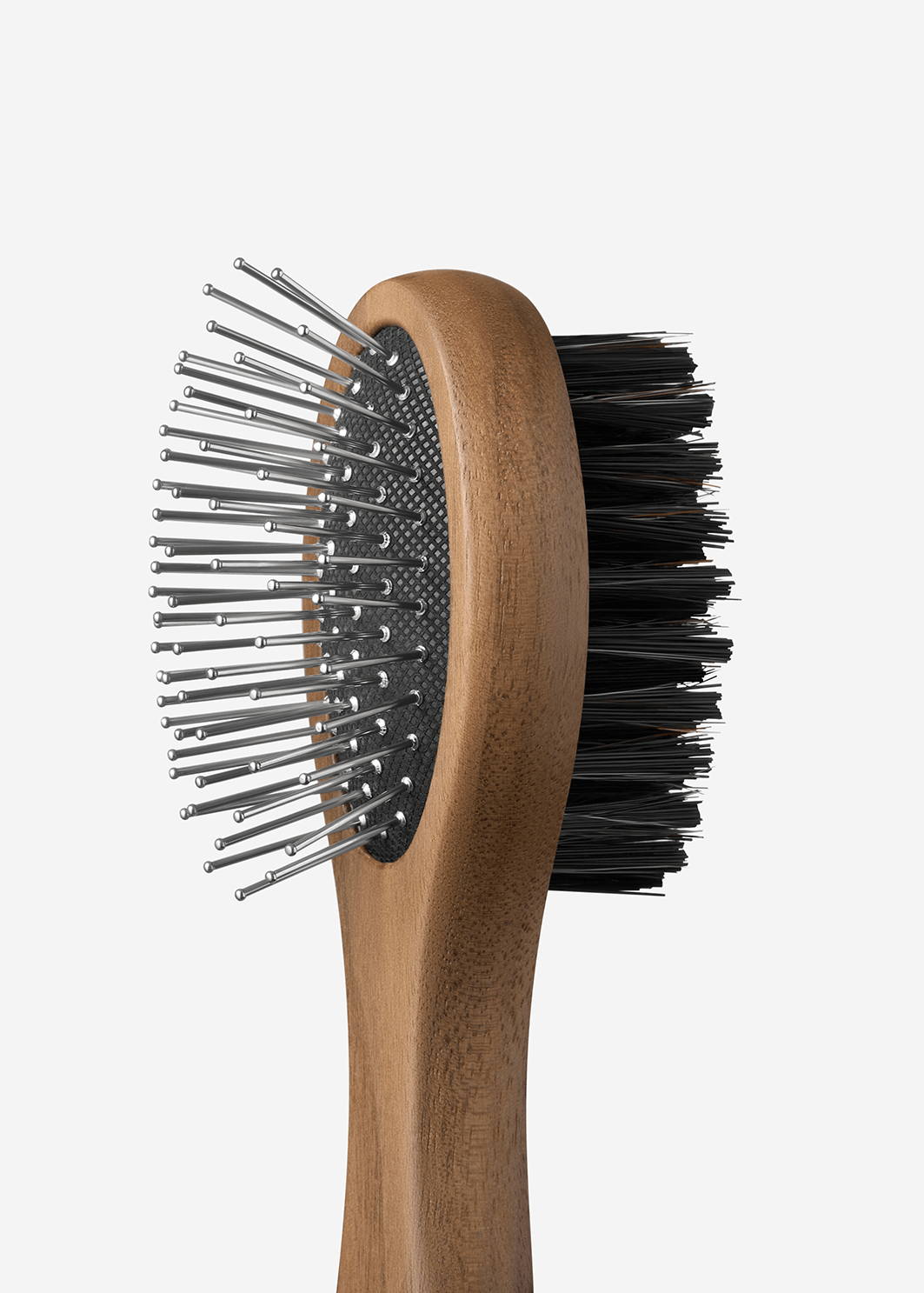 ---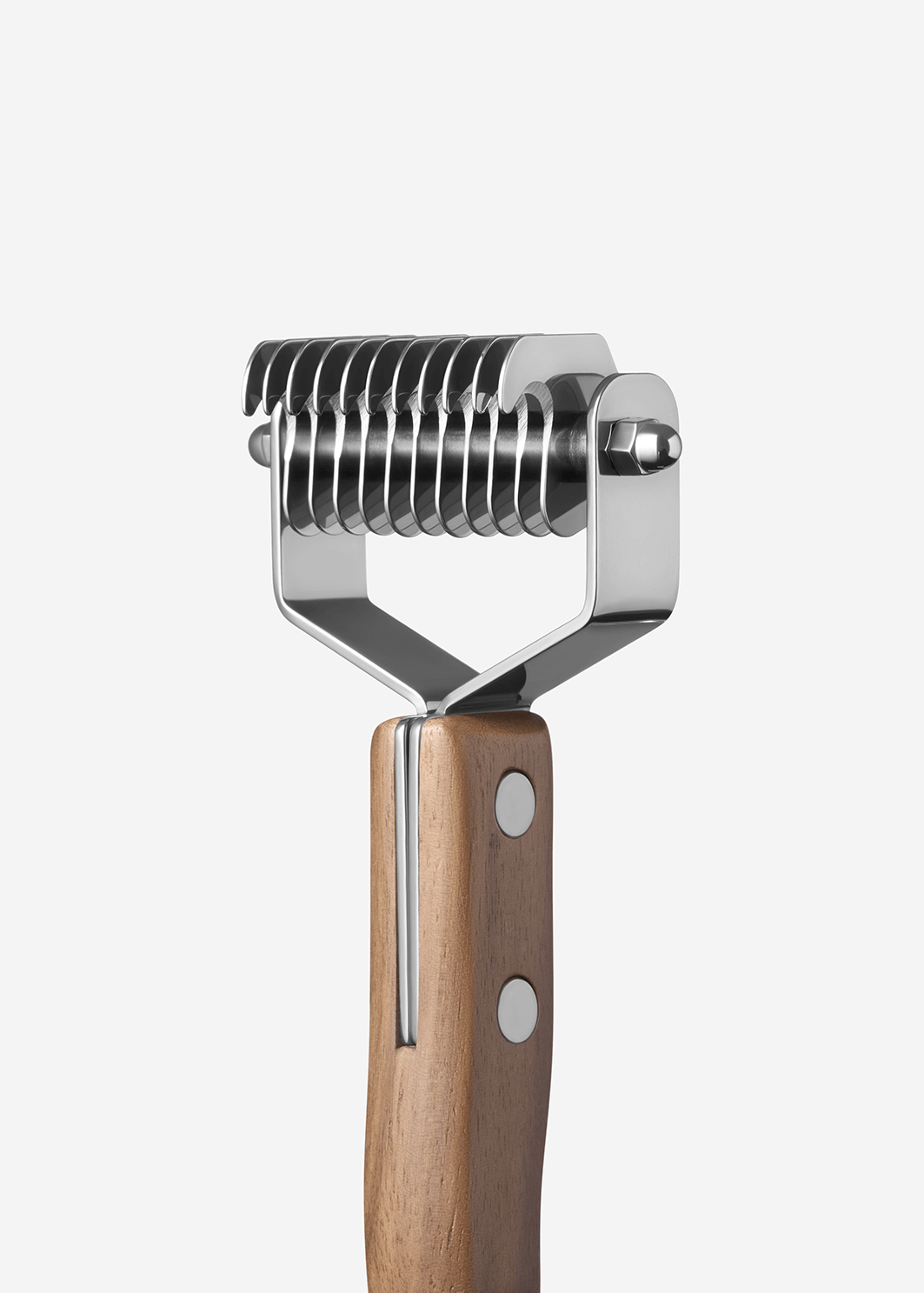 FOR DE-SHEDDING
The Rake Brush
Designed to remove the undercoat of your dog, thanks to the small sharp blades that are set closely together.
The small steel blades are specially made to target deep into the dense undercoat, removing trapped dirt and debris, releasing the dog of all the dead hair and allowing their skin to breathe again. Will leave the topcoat shiny and healthy.
---
FOR MOULT PREVENTION
The Slicker Brush
Designed with a curved head with high-grade thin steel pins, to help prevent moulting while also leaving the coat lustrous and healthy. This grooming tool is to be used all over the body, except from the face area. The slicker brush is going to result in a lighter, healthier, smoother and shinier dog coat.
It is suitable for all coat types: especially useful for medium-to-long coated dogs, professional groomers use a slicker brush. It is also a good tool for short-coated dog breeds such as a Jack Russell, Bull Terrier, Beagle, Basset Hound, Labrador...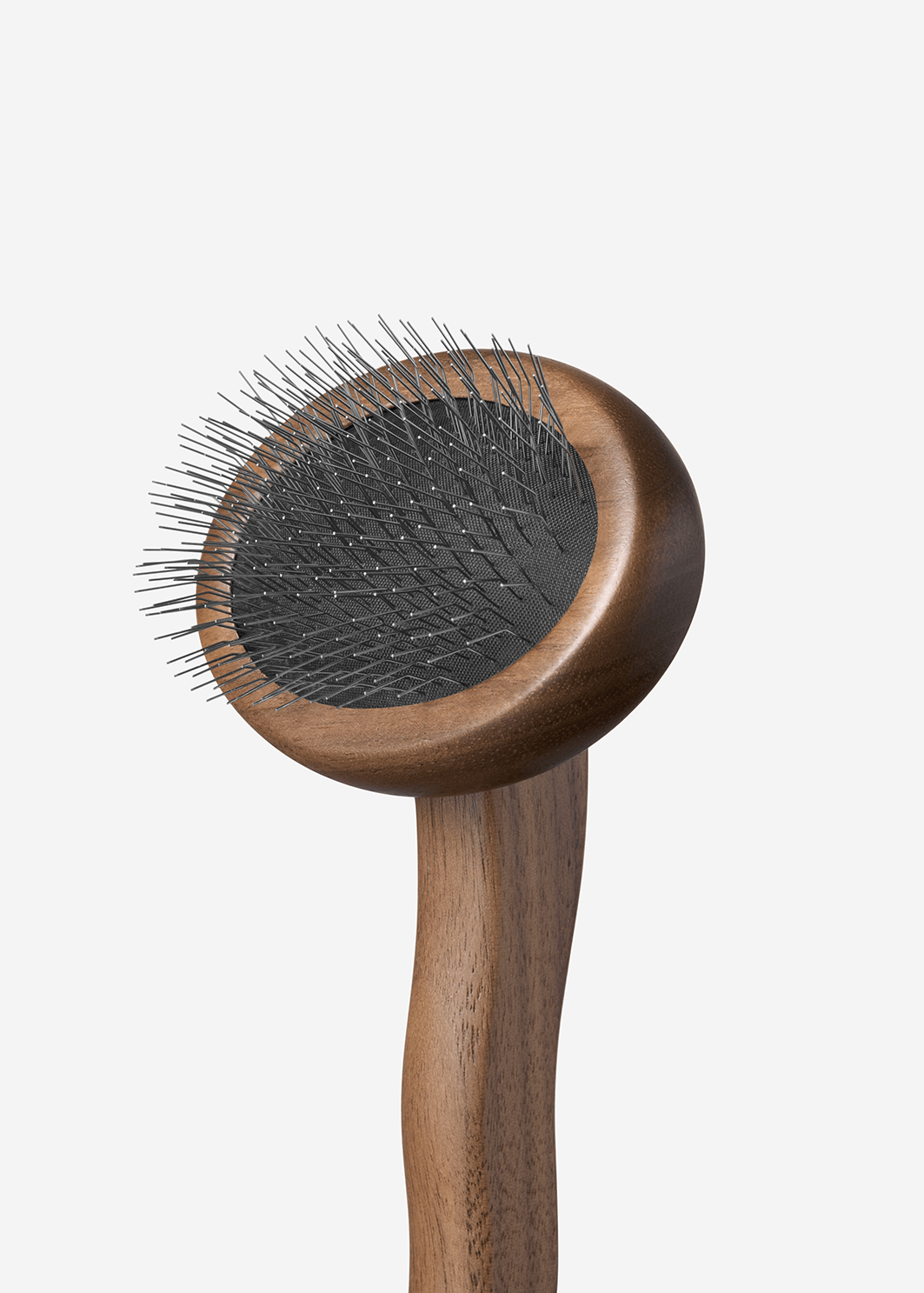 ---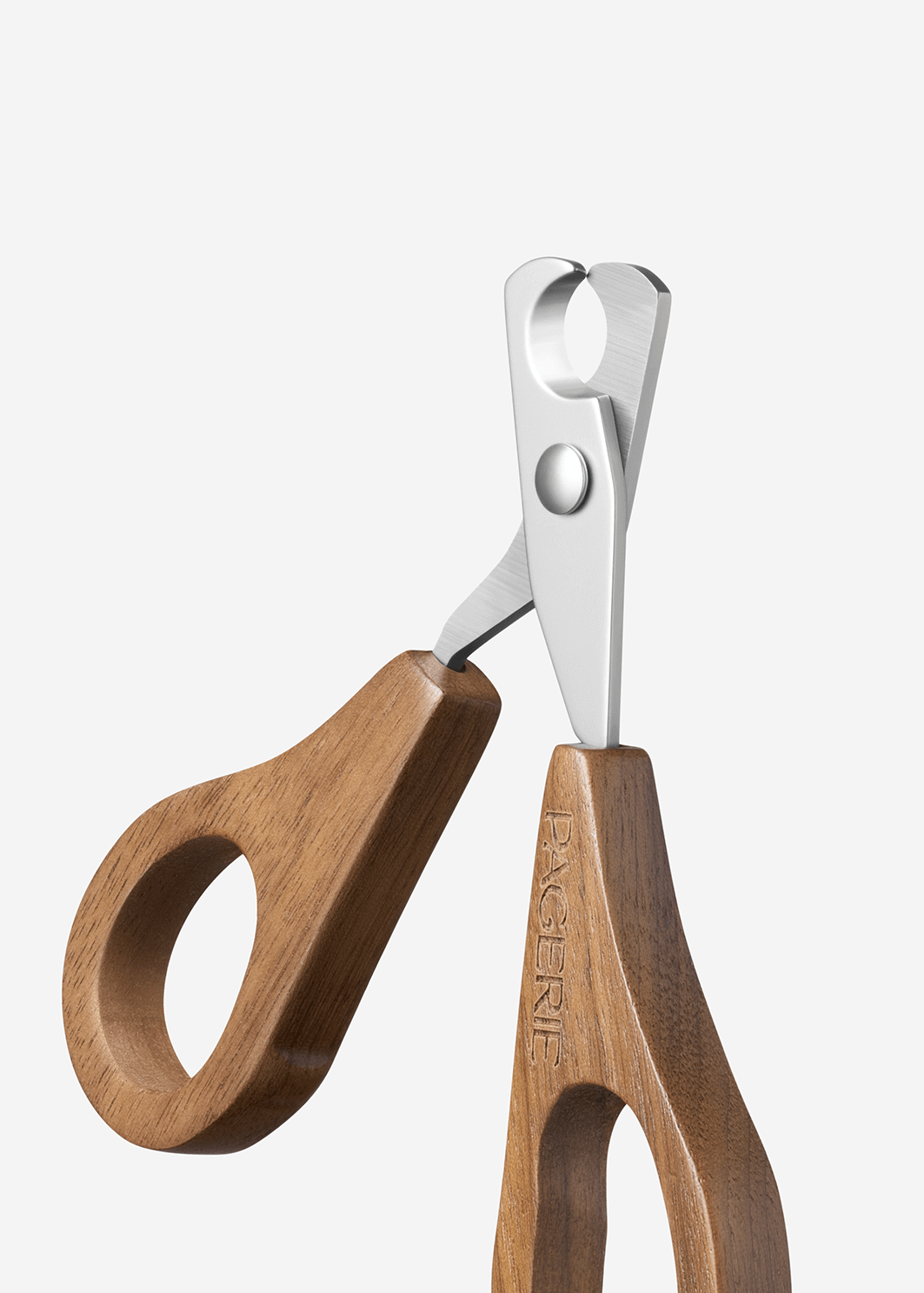 FOR THEIR MANICURE
The Nail Clipper
Crafted to preserve all the old-world charm of classic nail clippers and offer new performance capabilities, this vintage-inspired design features surgical-grade stainless steel blades, made for precision and a long lifespan. The genuine walnut wood handle offers a feel that is both elegant and graceful in hand.
---
HONOURING CENTURIES-OLD HERITAGE AND CRAFTMANSHIP
Every PAGERIE Heritage piece is uniquely crafted with the highest attention to detail, duly honouring centuries-old heritage and craftsmanship.
The Pansage is crafted with both beauty and function in mind, to bring an elegant experience to your pet care routine. Designed for simplicity and style, it offers you peace of mind and control when taking care of your canine companion. With its timeless design, your grooming sessions are sure to be a dreamy delight - without compromising on quality or performance!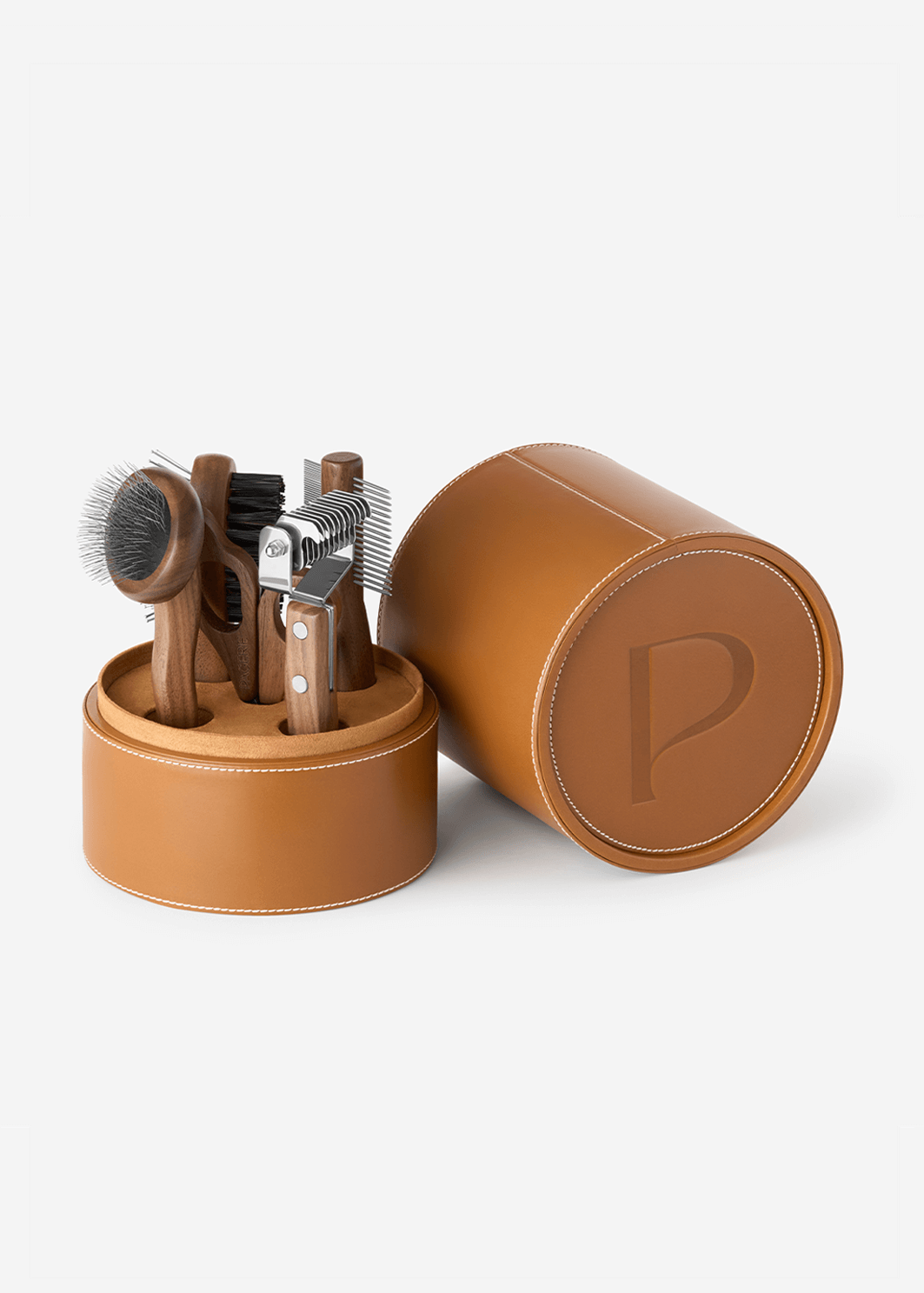 The Pansage Grooming Kit
Together, the five objects above, make up The Pansage Grooming Kit. Grooming tools are all made using surgical-grade stainless steel and genuine walnut wood.
The grooming case which encloses each of the five objects, is made using 100% vegetable-tanned leather, lined with suede.Embossed with signature P for Pagerie, and with contrasting stitching in white.