Pagerie's ethos behind its Design & Quality
ALL IN THE DETAILS:             Design with Quality
Pagerie is a solution to what was missing on the market for our canines and owners globally. In this series, All In The Details, we break down the distinct aspects of what makes Pagerie a house rooted in ultra-luxury and historical craftsmanship for the companions that bring us joy.
A coveted investment piece should include the following: impeccable materials that have worn well as it has aged, hardware that has stayed intact for years thanks to its durability, and a timeless hue.
To that end, Pagerie's founder, Mandy Madden Kelley, took the aforementioned description and crafted a collection of exceptional pieces for those who accompany us in everyday lives: our dogs.
Diving into Pagerie's traditional, yet modern, design ethos, Mandy discusses why vegetable-tanned leather was her chosen fabrication, the tenacious stainless steel hardware used for yachts, and the importance of working with the right factories who put quality first.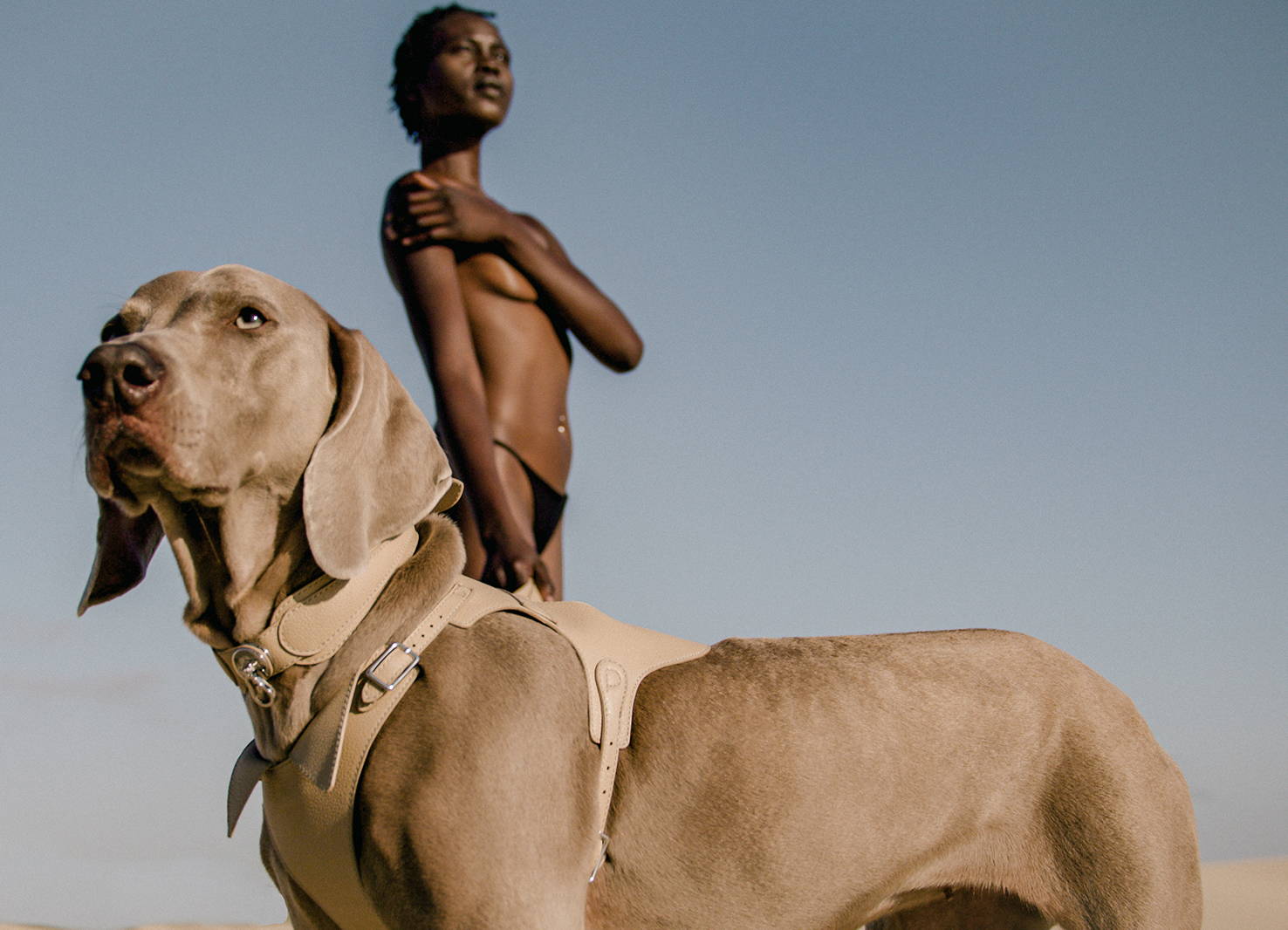 Q: WHEN IT COMES TO QUALITY AND AESTHETICS, PAGERIE IS UNLIKE ANY OTHER DOG ACCESSORY BRAND. WHY DID YOU WANT PAGERIE TO HAVE A MORE ELEVATED POINT OF VIEW?
A: I felt like there was such a gap in the market. For both dogs and humans, everything has become fast fashion and things are becoming easier to make. At the same time, I felt like we've lost this level of quality that we had back in the day. I wanted to bring that back and celebrate it.
Q: PAGERIE HAS A UNIQUE AESTHETIC; HOW WOULD YOU DESCRIBE IT?
A: I would say it is a balance of sensuality mixed with a level of masculinity. I wanted to create the perfect juxtaposition where the two intertwine and work beautifully together. I wanted to balance that with a stronger, thicker collar that's not thin and dainty. I wanted the stitching to be celebrated and shown rather than hidden. And I wanted the buckles and the turnlock to be big and bold rather than make them overly ornate and feminine.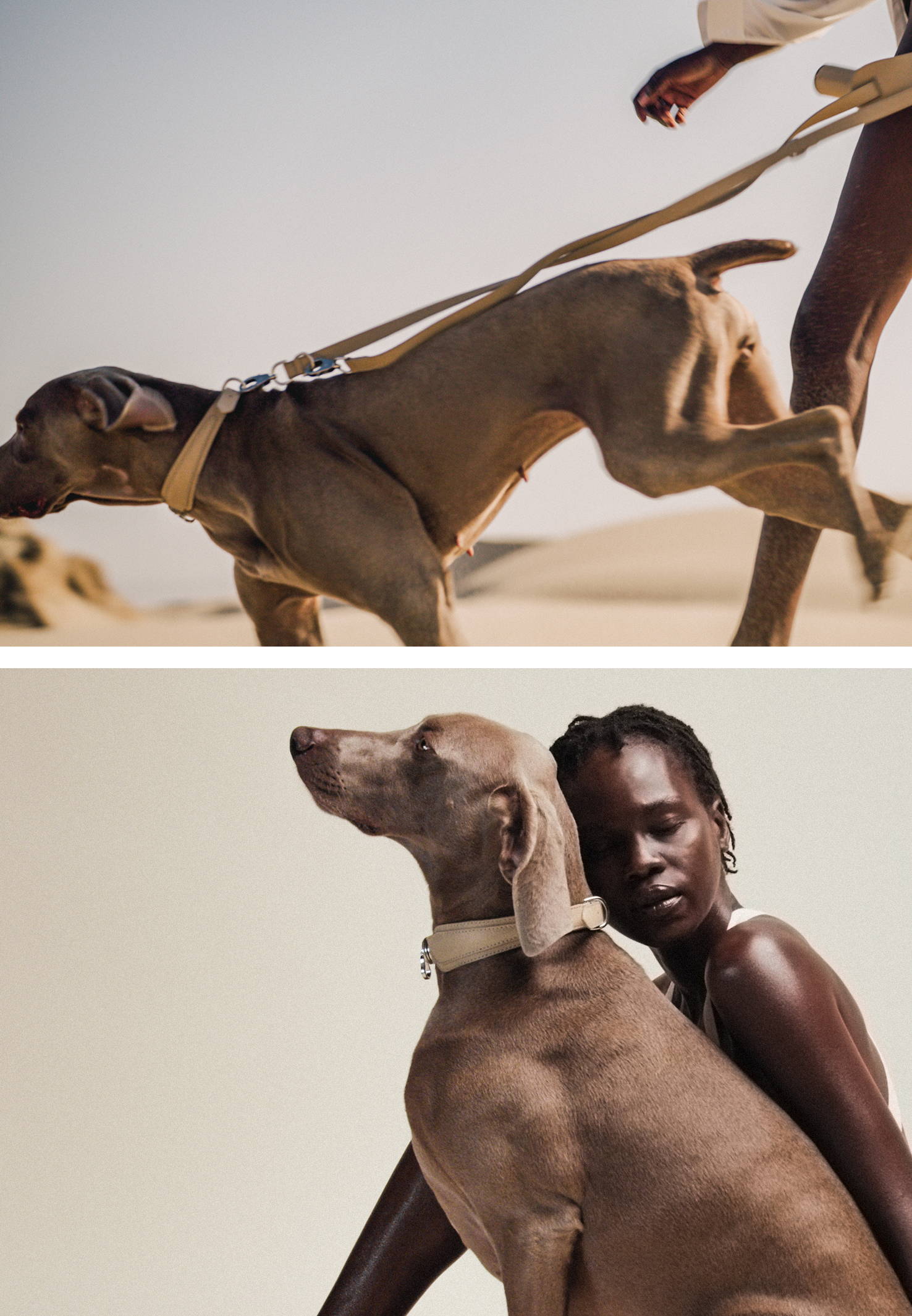 Q: IF YOU LOOK AT YOUR INSTAGRAM — THE COLOURS, THE AESTHETIC — HOW DOES PAGERIE COINCIDE WITH YOUR ARTISTIC STYLE AND PERSONAL BRAND?
A: It is an extension of everything I have been doing so far. I'm a lover of neutrals and a relaxed mood. Pagerie has a darker, more sinister and badass point of view. I hope to add this level of mystery and sophistication that I have not been able to do throughout my own personal brand.
Q: THE DETAILS ARE DISTINCT. HOW WERE ALL THE MATERIALS SOURCED?
A: Everything that I have been doing to source the materials has been such a journey and that's part of why it took so long for me to launch the company.
I looked all over the world for the best possible vegetable-tanned leather that's most sustainable. Ours is biodegradable and environmentally friendly. When I looked at vegan leather, I learned it is made using PVC and PVC is plastic. Any type of plastic that is in touch with the skin is not healthy for our dogs. Also, through my research, I found that using PVC leather or vegan leather, you end up using way more water.
But, of course, not being an established brand like a Chanel was hard. It is tough to get these factories to take a chance on you. We work with the factory that also works with some of the most renown luxury fashion houses in the world. I wanted to create something that was long-lasting with beautiful quality rather than a fad.
Q: WHAT MAKES THE HARDWARE FEEL LIKE A GENUINE ACCESSORY?
A: All the hardware that we use is made out of stainless steel. It is very durable because it is marine-grade, meaning it is used for yachts and made to last for a really long time. This again reflects the values of Pagerie.
We decided to forgo brass because, when painted, it can tarnish and become yellow with time. For our signature turn lock, we worked closely with engineers to design it and ensure that the dogs won't escape. It has also been tested to make sure that it can handle up to 100 pounds of force.
The reason that most companies don't work with stainless steel is because it is a material that's really hard to work with. It is heavy and it does not mold as easily as brass or zinc. But brass and zinc also contain lead and we wanted to make sure our hardware was 100% lead-free. Plus, stainless steel also helps with skin irritation, especially for someone like Hector, who is a Frenchie and so prone to allergies. We also work with stainless steel because it does guarantee exceptional corrosion resistance under the most severe environmental chemical conditions.