October 13, 2023
INTERVIEWS
All in the Details: Pagerie's The Nue and The Gale
ALL IN THE DETAILS
Pagerie's The Nue and The Gale
ALL IN THE DETAILS
Pagerie's Texture & Fabrication Ideology
Pagerie is a solution to what was missing on the market for our canines and owners globally. In this series, All in the Details, we breakdown the distinct aspects of what makes Pagerie a house rooted in ultra-luxury and historical craftsmanship for the companions that bring us joy.
Our latest Pagerie objects are known as The Nue and The Gale, two canine essentials inspired directly by our community. The Nue combines the functionality of a waste and treat bag holder into one sleek, modern design, while the Gale is our solution to a stylish, yet slightly rugged iteration of the martingale leash. "Ever since we launched Pagerie, we've focused on building a relationship with our customers," said Pagerie founder Mandy Madden Kelley. "One that's intimate so they feel comfortable coming to us and sharing their feedback and what they want to see more of."
Here, Mandy shares the reason behind creating the first-ever bucket bag for your dog and why a trainer with years of experience inspired The Gale.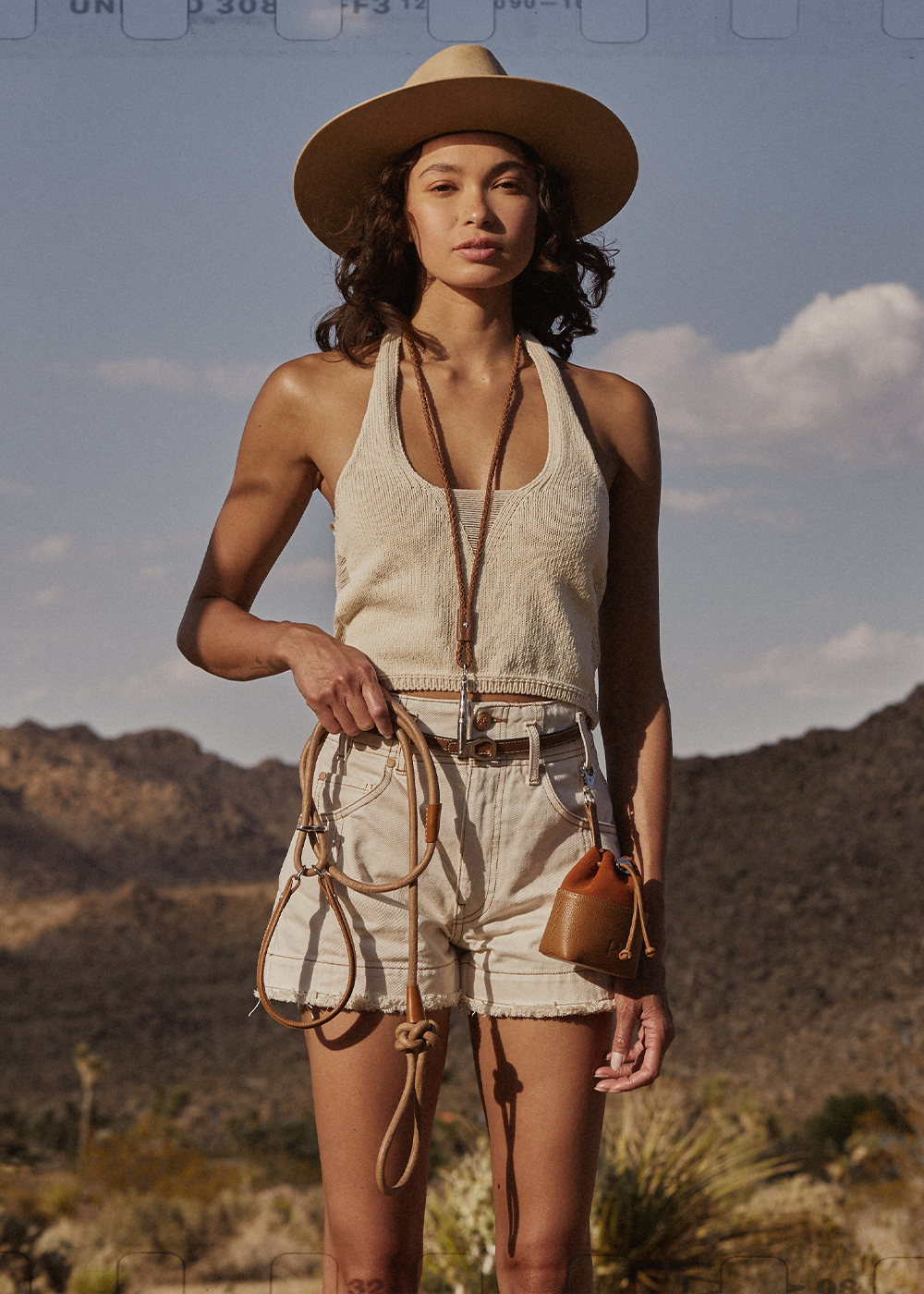 "Texture can make or break a PAGERIE design, so great care and consideration are taken in regard to crafting every one-of-a-kind creation."
What are some of the fabrics used within the PAGERIE collection and why are they important?
The Bonny Sweater, for example, is carefully crafted from the finest of materials to ensure its exceptional softness, warmth, and durability. We pair premium quality cashmere yarn with innovative sustainable processes to create a garment that is not only luxurious, but also stands in defence of animal rights and environmental protection. Our SGS-tested yarns are both organic and un-dyed, which helps us maintain our commitment to sustainability while also providing maximum comfort and style. An additional bonus to this eco-friendly approach is it also contributes towards animal protection by reducing any unnecessary harm or exploitation of animals. With the Bonny Sweater, you have the power to make a statement - quality, sustainability, and comfort, all in one thoughtful package.
What was the inspiration for The Nue?
When we first launched, we offered the Pouchette, which only holds waste bags. A lot of customers came back to us and asked if the Pochette could hold treats. We had to explain to them that it can't due to its form and function. But they really wanted a two-in-one durable object and that's exactly what they got—a bucket bag that can house treats and waste bags simultaneously.
Design-wise, our inspiration was the beautiful and iconic classic bucket bag, but one for pups, which has never been done before.
The Nue is truly a multi-hyphenate bag. What are all of its different uses?
The possibilities are endless. You can put your lipstick in it when you're on the go, store your jewelry, or keep your spare change inside. It's great when traveling and you need quick access to something. It's nice to store it inside or clip it onto your handbag. It's made to secure whatever is valuable for you. That's one of the reasons why we custom-made the closure. It's a little pear-shaped fastener that allows you to tighten and open easily.
Design is a top pillar at Pagerie, so what was the significance of The Nue's fabrication of including leather and suede?
We always talk about the three pillars that build our company: quality, sustainability, and design. The number one most important thing was ensuring that whatever materials we use are good quality and good for the planet. We also asked ourselves, in regard to design, will this last a year from now? Is it going to last five years or 10 years from now? That was key when we made this product.
There are very intricate elements in the PAGERIE pieces. For example, the Rava's braided handles take 12 hours to braid. So what is important when crafting the detailed work?
Attention to detail is at the centre of our philosophy when it comes to The Rava and nowhere is this clearer than with our braided dog leash handles. This complex process requires intense focus and precision, taking the skilled hands of our craftspeople up to twelve hours to meticulously weave each design. In a way, we are celebrating the centuries-old tradition of artisanal handiwork that has been so carefully passed down from generation to generation amongst families. Our mission as a company is not just to create extraordinary product experiences for pet owners everywhere, but also honour the beautiful craftsmanship associated with such manual labour.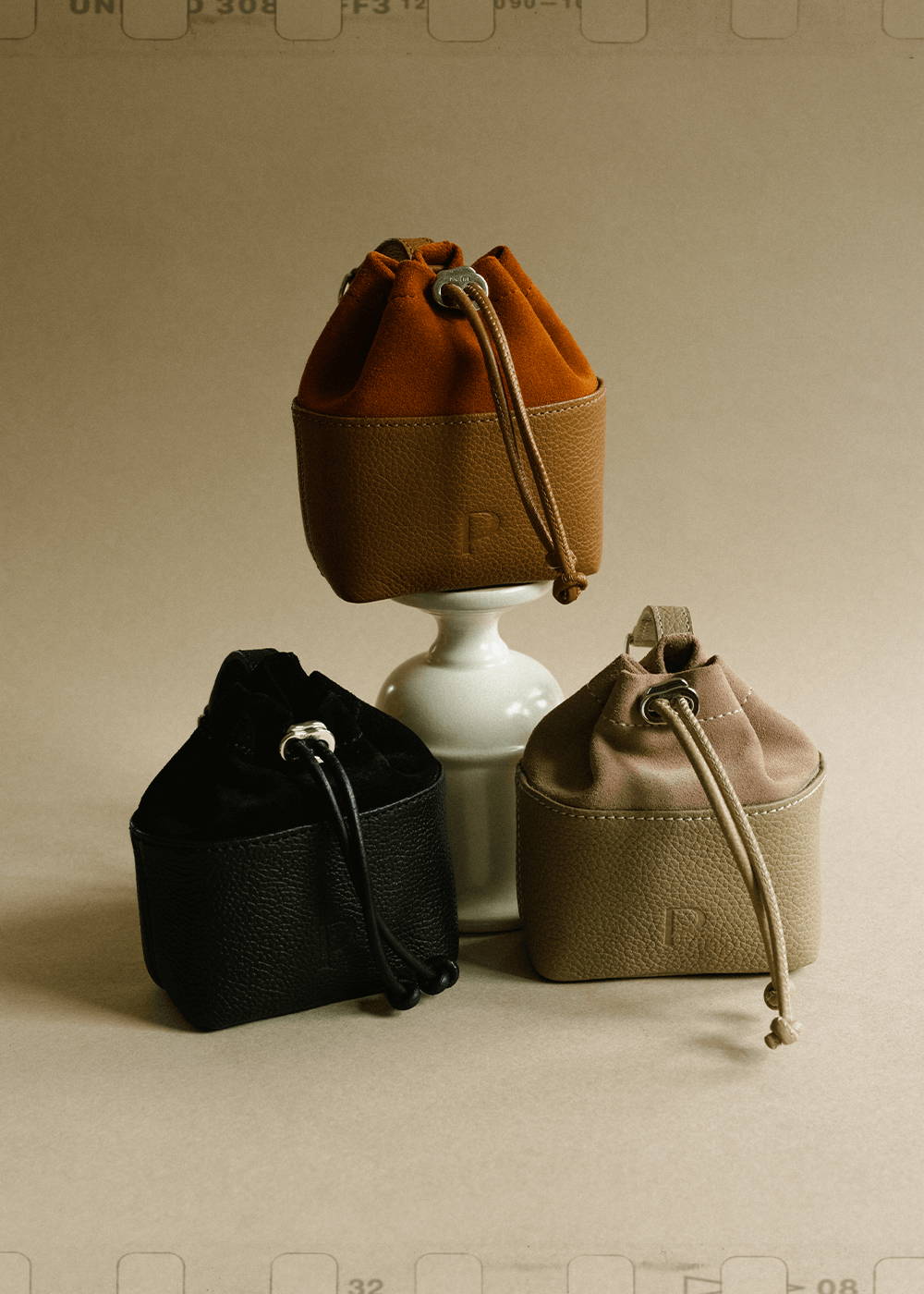 "KNOWING WHAT ACCESSORY TO CHOOSE IS A MATTER OF PERSONAL STYLE AND INDIVIDUAL FLAIR."
"OUR INSPIRATION WAS THE BEAUTIFUL AND ICONIC CLASSIC BAG, BUT ONE FOR PUPS."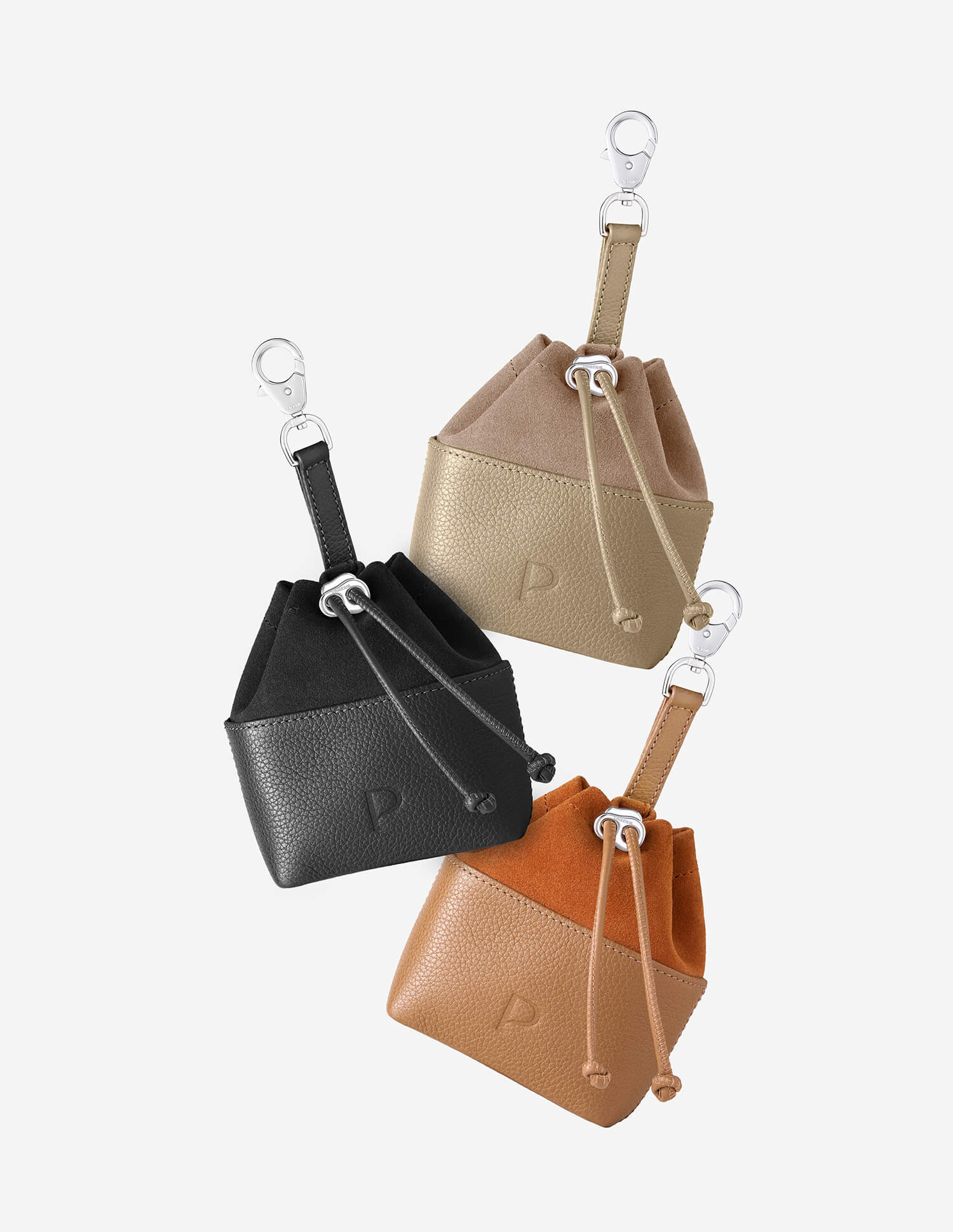 To that end, we're focused on using reach-certified leather and aligning with the European Union guidelines, which are much stricter than in the US. We use a natural leather resource that's biodegradable and absorbs the pet's natural oils, making it mold beautifully to their body.
The suede is about practicality. Adding that was not just about aesthetics, but also functionality. When you use hard leather, it's difficult to open and keep flexible. So, we used something softer that has more of a sensorial effect when the owner opens it.
Meanwhile, we're one of the only fashion houses that custom-makes every one of our hardware elements. The little closure was dear to my heart. The pear shape has become part of our brand identity and was influenced by the female form. It's made from 100% surgical-grade stainless steel and it's 100% recyclable and hypoallergenic.
What inspired you to create The Gale?
The Gale is essentially the style of a Martingale, a two-in-one collar and leash helpful for training. It's very different than what we've done before because it has a cowboy-like, rugged chic vibe. We always want to deliver to all our customer archetypes and not just focus on one simple aesthetic. Our first collection, The Sahara range, was very elegant and appealed to a more mature audience. Our Les Arcs collection was geared more towards Gen Z, more fun and playful with the chain detail and the yellow and green hues. And then The Noma collection was specific to smaller breeds of cats and dogs because it's more dainty. For our next collection, we wanted it to be a bit more masculine, not too flashy. It's minimal, but still high quality and will age gracefully with time.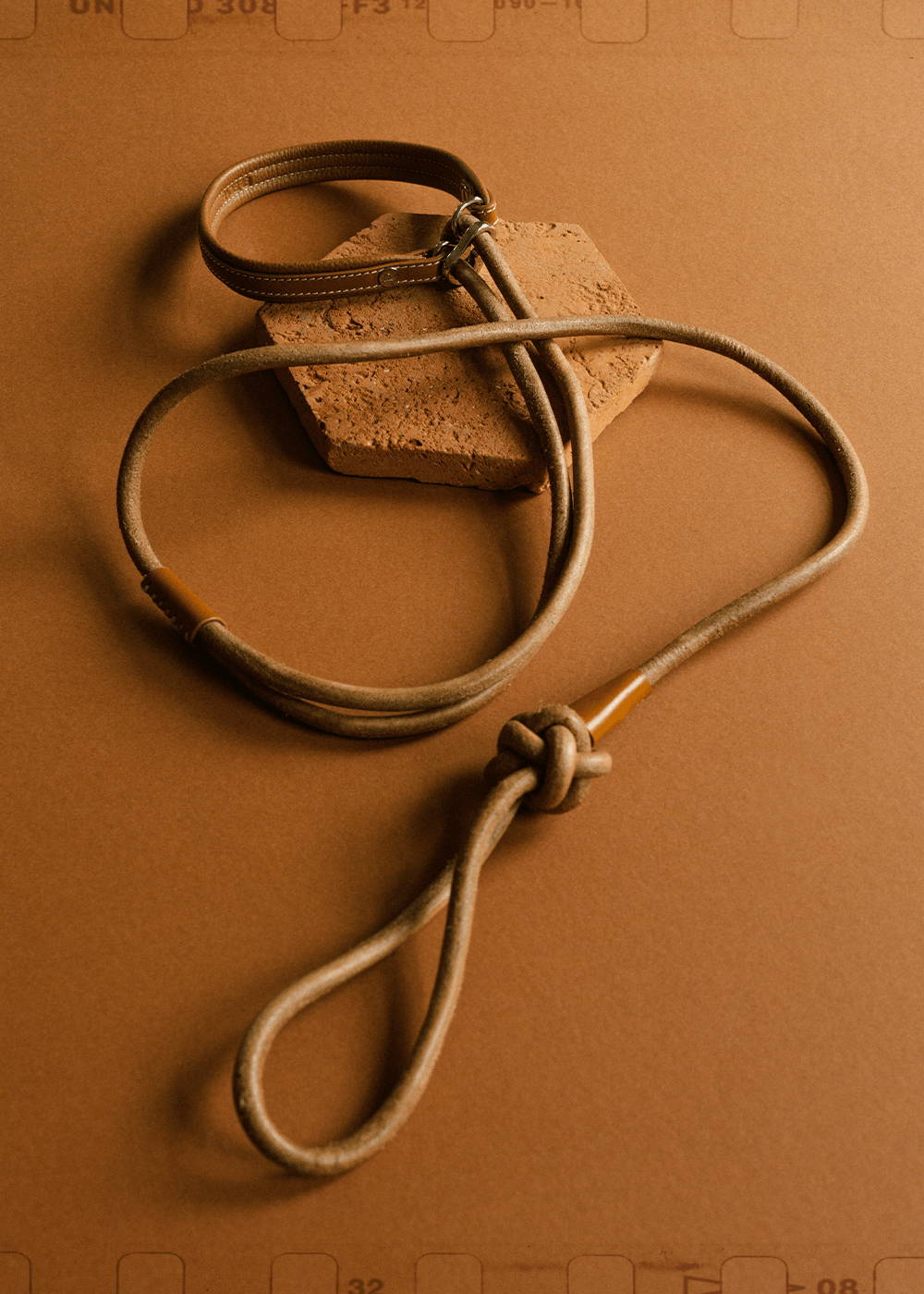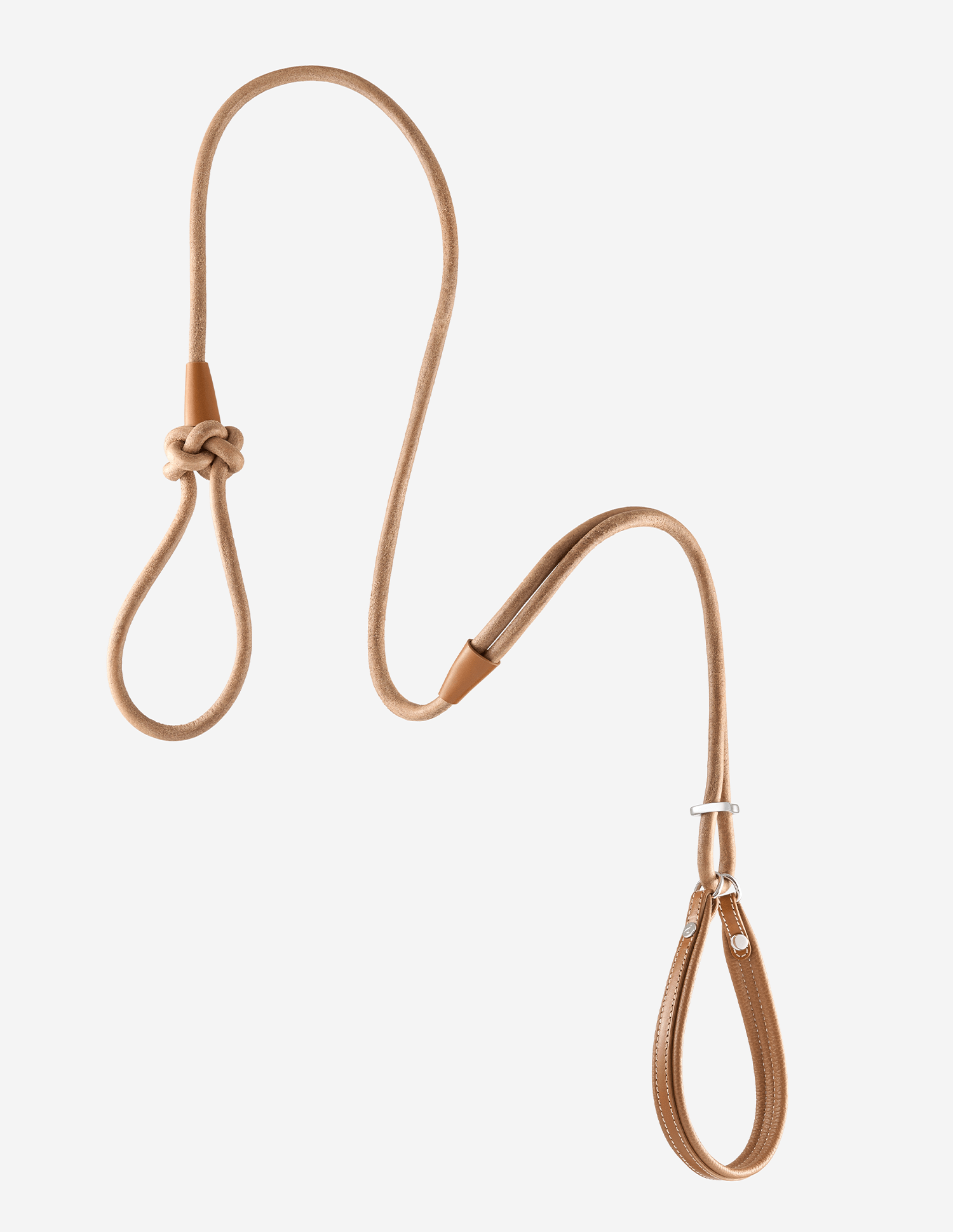 "THE GALE COMBINES PROFESSIONAL TRAINER FEEDBACK AND A STYLE THAT ALIGNS WITH OUR CUSTOMERS."
"GREAT CARE AND CONSIDERATION ARE TAKEN IN REGARD TO CRAFTING EVERY ONE-OF-A-KIND CREATION."
The Gale was also inspired by the National Dog Show, which we attended about two years ago, and spoke with some of those trainers there. They mentioned it's hard to find a good quality training leash for shows. When we had our pop-up there, one of the older trainers came up to us and dropped her leash on our desk and she asked if we could make it. She said she promised to send all her trainer friends to us because she purchased her martingale 20 years ago and has had the same one for 20 years and can't find it anywhere. So we took that seriously. Again, it was based on feedback. I took lots of photos, measured it, and we've been working on it ever since.
The Gale combines professional trainer feedback and a style that aligns with our customers. You'll notice details like the raw leather and the little knot up top. We're really stressing sustainability, quality, and function. I try to stay away from the word luxury, and instead focus on these key aspects, which to me is the true meaning of luxury, without labeling it that.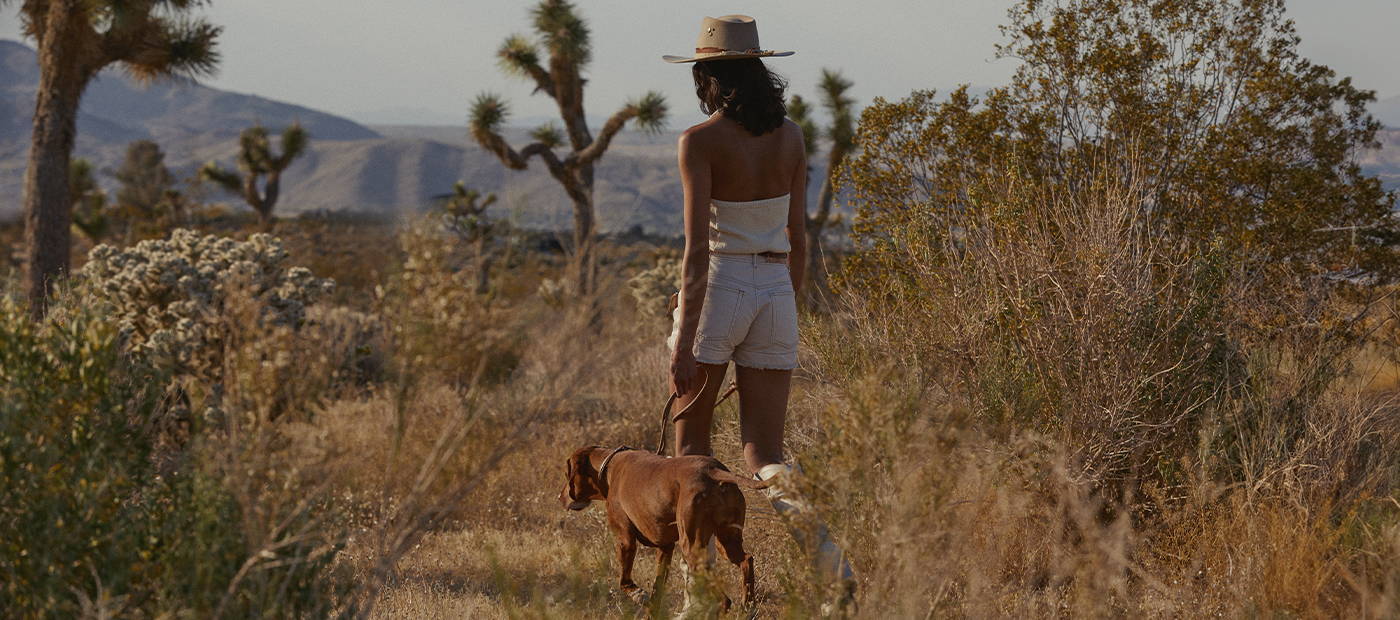 You also have accessories for your canine's parents. So how do you decide what to use for ready-to-wear items like the Ferriti Silk Scarf, the Hiro bag, and the Ève?
When it comes to selecting the perfect accessory for your wardrobe, the choices can seem daunting. Knowing what to choose is a matter of personal style and individual flair. Take, for example, The Feritti Scarf. This luxurious silk scarf is a masterpiece, combining traditional masculine and feminine character with modern minimalism and distinguishable sensibilities. It adds instant elegance to any look, but if you're looking for something more practical yet still stylish, then you might consider the Hiro waist bag instead. It can be used during physical activities such as hiking, but can also add an air of fashion-forwardness when worn over a structured blazer. For ultimate uniqueness, I personally designed the one-of-a-kind Ève bag that is both a timeless classic and an intriguing art piece in its own right!